So we're into the second month now of 'The Destroyer' taking over our home and sleeping patterns, and there's a few things I've learned that I thought I'd share with you all..
1: Baby's have a finely tuned stealth vomit delivery system. So highly skilled are they in leaving wee two pound coin sized spew puddles, that it's not till after you've pulled your baby piss stained t-shirt over your head and found that your beard is now full of regurgitated breast milk, will you notice that the wee bugger has tagged you.
2: You know those disposable waterproof shrouds they give you at water parks for the splashy rides, just in case you're too much of a fanny to get your Hollister t-shirt a wee bit soggy? Well, when you next get one take it home and keep it for nappy changing times. Little boys love nothing more than waiting a split second after you've released the tabs on their honking nappies before releasing a hot, wavy stream of piss all over themselves, you and any family pets.
For example, earlier I was upstairs and heard my wife changing the little man downstairs.. "Hey wee man, you're so cute aren't you? And look at your pretty new vest, doesn't it fit weOH GOD WHAT ARE YOU DOING? WHY WON'T YOU STOP OH F*CK IT'S IN YOUR FACE AND NOW IT'S ALL OVER MY TROUSERS WHY JEBUS WHY? HOW DID YOU MANAGE TO HIT THE CAT WITH IT?"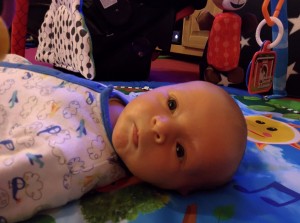 3: Babies hate sleep. Well, that's not fully correct. They'll happily sleep in Grandma's and Grandad's arms, looking like sweet little angels while they gurgle and snore, to the point where your parents wonder what all your fuss is about, and isn't he just a wee beautiful peaceful angel?
No, No he is not. In fact, they minute you're back safely in your own home and he senses that the witnesses are gone, he'll bust into full rage mode and do his best to break your goddamned spirit. He'll take you to the brink of destruction, before gurgling himself into what appears to be a peaceful sleep. BUT DON'T BE FOOLED BY THE LITTLE PR*CK! No, he's waiting for you to lay down and start the slow, methodical breaths of sleep before he launches into his next baby rendition of 'Angry Bohemian Rhapsody'
Oh, and when someone tells you before baby arrives that, "You should get as much sleep as you can right now before baby comes!" or "Good luck with the sleepless nights! Hahah!" – Punch them hard right in their stupid face.
4: When you're dad and you obviously can't make your own breast milk, you rely in expressed milk from mum that you can use in the early hours to feed the little one, while mum grabs a wee bit of sleep. However around four in the morning when you're almost delusional through lack of sleep, here's how things will roughly pan out..
Baby: "SCREAM SCREAM SPEW FEED ME NOW DAMN YOU WHY ARE YOU NOT FEEDING ME THIS VERY INSTANT! I'M SO ABUSED, OH WAILY WAILY!"
Dad: Scurries around kitchen heating bottle of milk, falls over dogs and rattles head, curses every deity, smashes toes off cat bowl and then stands on a plug before bringing milk to baby
Baby: The second the teat touches his lips "SNORE SNORE, YOU CAN'T FEED ME NOW STUPID MAN FOR NOW I AM SNORING! AH SLEEP IS BLISS, YOU SHOULD TRY IT SOMETIME LOSER!!
"
What a d*ck.
This is just a small selection of the things you can look forward to as a new parent. Now, if you'll excuse me I'm away to go and sob into a cup of coffee.